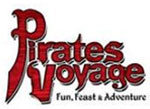 The spirits of me pirates and buccaneers that once sailed the coast of the Carolinas have come to life in Myrtle Beach's newest show in many years. Ye landlubbers will experience the swashbuckling excitement of two pirate camps as they battle for the lost treasure. Beware matey! Pirates Voyage just might take ye breath away as the Crimson and Sapphire pirates battle each other on deck, in the water and in the sky above their full-sized pirate ships in a 15-foot deep indoor hideaway lagoon to the cheers and delight of ye fans.
Pirate's Voyage is located at 8901 N Kings Hwy, Myrtle Beach, SC 29572
Sit back and enjoy as two pirate camps go head to head to for treasure! Can you handle the adventure set forth? For years these pirates have fought in the indoor lagoon, and are ready each and every time! So would you like to visit? Please visit www.piratesvoyage.com!