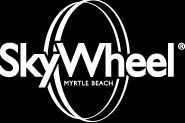 Looking for adventure? Maybe you just want a beautiful view of Myrtle Beach. The Sky Wheel is a large ferris wheel that has become synonymous with Myrtle Beach! Lights up at night, and is cheap for a ride, what else could you want!
The Sky Wheel is located at 1110 N Ocean Blvd, Myrtle Beach, SC 29577
The Myrtle Beach Sky Wheel has been a known symbol of Myrtle Beach since it's opening! The Sky Wheel is located on the ocean boulevard, which is the default place to visit when you come to Myrtle Beach! The best part is, it's right around everything! So once you are done with the ride, you can go and grab a bite to eat, shop, or ride again! The possibilities are enedless. Please visit or call to find out more information!
General information:
1-843-839-9200
MyrtleBeachSkyWheel.com